Uranus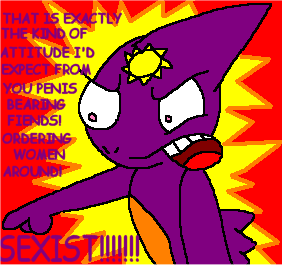 Basics
Personality
Uranus is an angry feminist, due to being rejected several bazillions of times by boys when she was younger.
Feminism
Ana takes every opportunity possible to say how boys suck. Earth is usually the one to be put in his place.
Name
Nobody refers to her as Uranus, because if they do, they get clobbered. She hates her full name.
Relationships
Mercury
Quite good friends, as they're both girls.
Venus
Very good friends.
Earth
Ana is constantly beating Earth up for his comments.
Mars
Ana is a bit intimidated by Mars, but still doesn't let him say anything bad about women.
Jupiter
Ana finds Jupiter to be annoying. Very much so.
Saturn
Ana thinks Saturn is just waaaaay too weird.
Neptune
Ana doesn't really like Neptune for the fact that he's Earth's best friend.
Pluto
Pluto is Ana's only real guy friend. He has the honour of being the only guy allowed in her room.
Random Facts
Right-handed
The rejection thing is based on me